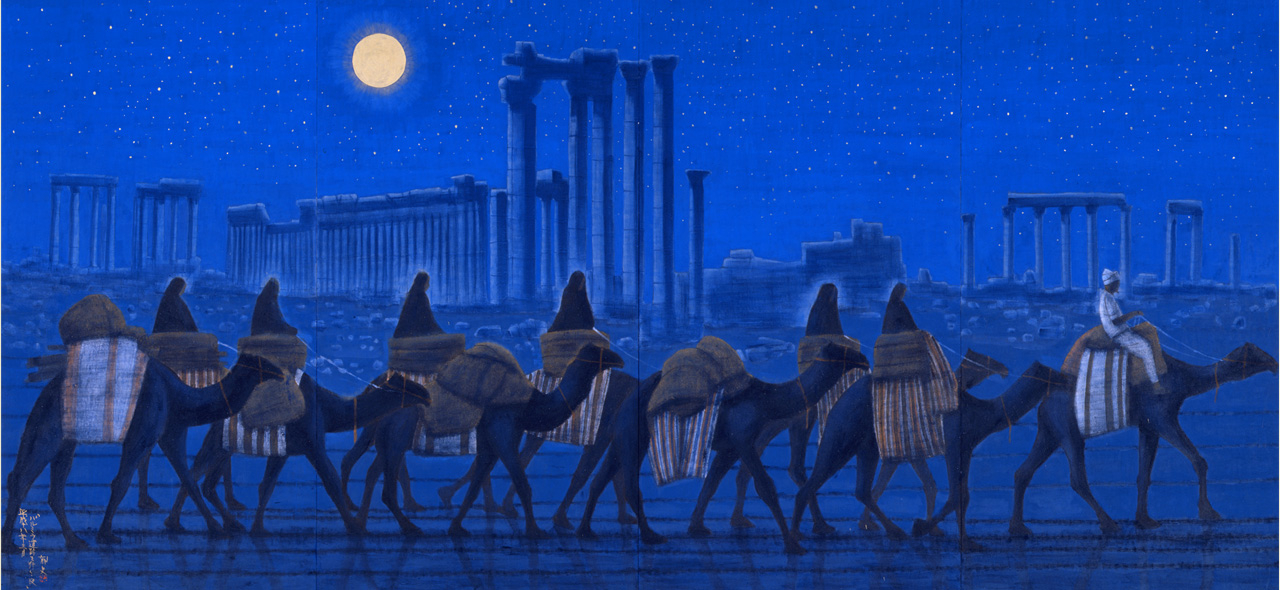 Hirayama Ikuo Silk Road Museum houses a collection of works by Hirayama Ikuo, a painter in the Japanese style, who passed away on December 2, 2009, and a collection of Silk Road Art that Mr. and Mrs. Hirayama collected over a 40-year period since 1968. The museum opened in July 2004 and is situated in a green highland commanding an expansive view overlooking Mt. Fuji and the Yatsugatake Range. The museum underwent extension and renovation in July 2008, which saw a new underground exhibition space and new lounge and resource corner built on the second floor. At the same time, work was also done to make the facility barrier-free for a better visitor experience.
The museum's Silk Road Art Collection includes some 9,000 pieces of paintings, sculpture and craft with ages ranging from ancient to modern, created in some 37 countries across Europe, West Asia, Central Asia and East Asia regions, from Rome in the West and to Japan in the East. Hirayama Ikuo Silk Road Museum not only stores and showcases its own collections in our themed exhibitions, but widely promotes the arts and culture of the Silk Road through promotional activities such as lectures and concerts, as well as support for education and research. We sincerely look forward to your visit.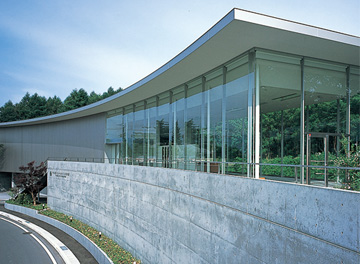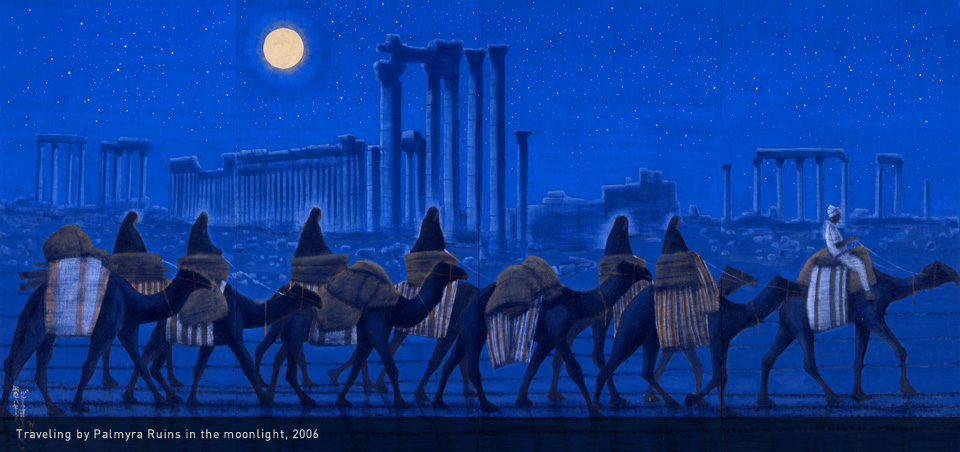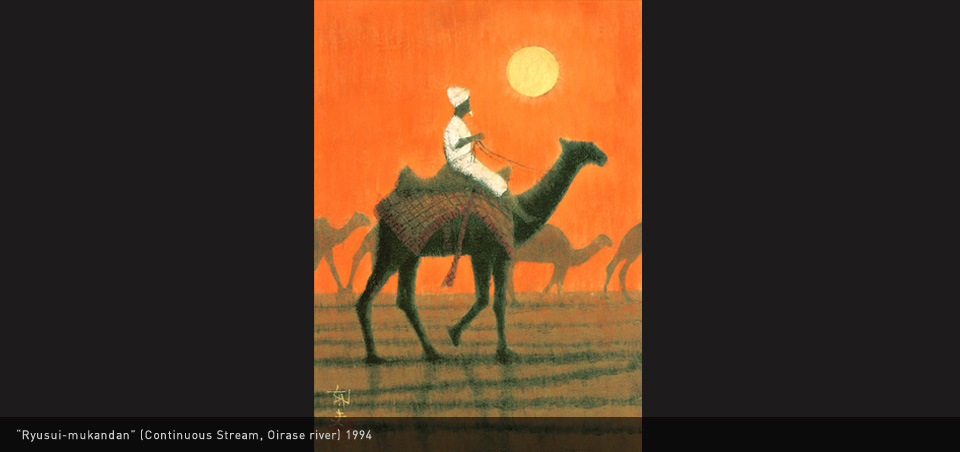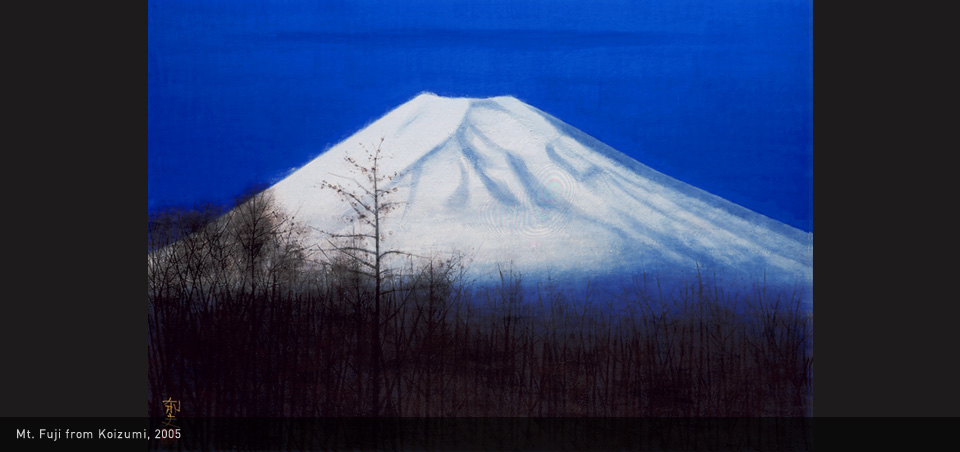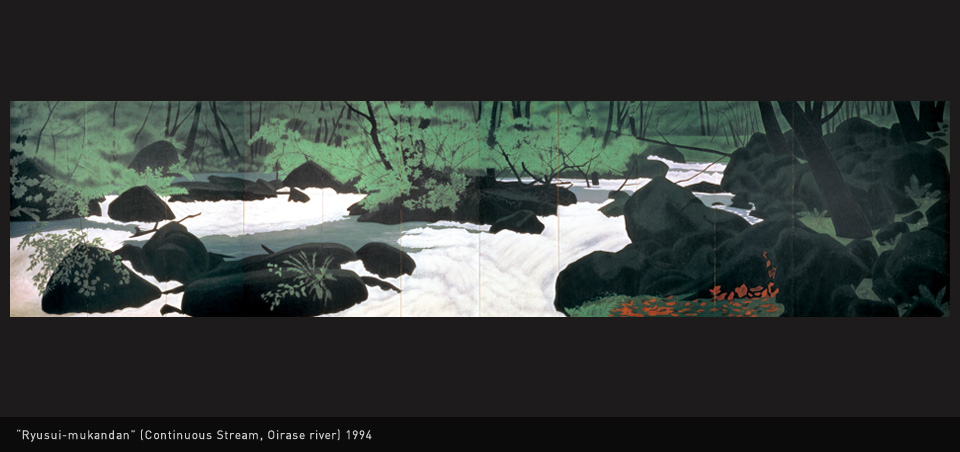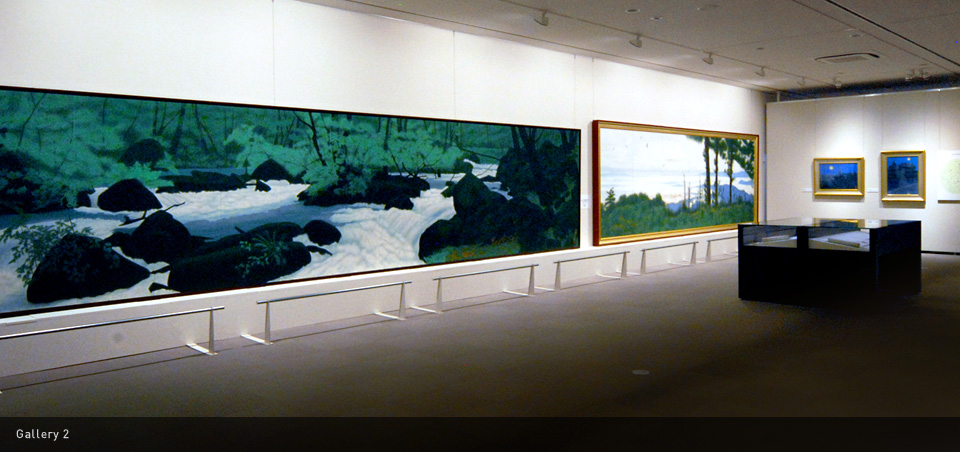 In search of the sources of Japanese culture, Hirayama Ikuo made more than 140 journeys all across the Silk Road and drew numerous Japanese style paintings, including sobyo (water colored drawings) on the Silk Road.
The second floor gallery houses Hirayama Ikuo's most recent work, the Grand Silk Road Series. The first floor galleries show his other works such as "Ryusui-mukandan (Continuous Stream)" and "Heisei Rakuchu Rakugai," masterpieces of Japanese landscape paintings, and "Ōshu Shasei Emaki (European Sketch Collection)," the major collection of his early day sketches. These works are rotated in themed exhibitions.
* Pictures may change as the exhibition theme changes.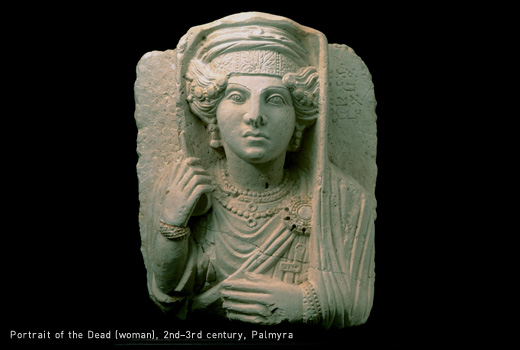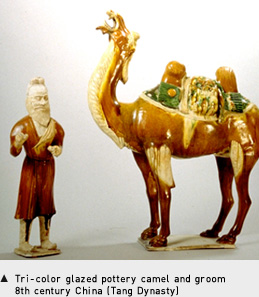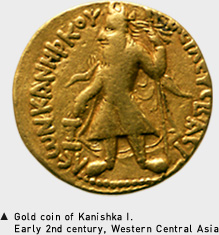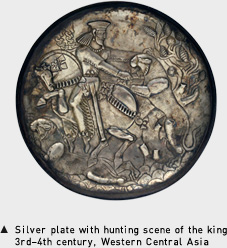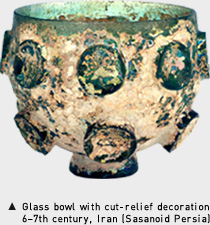 Mr. and Mrs. Hirayama collected Silk Road art from 1968. Upon hearing of the crises endangering much of the Silk Road cultural heritage due to ethnic conflicts and political instability in recent years, Hirayama Ikuo donated his collections, now showcased here, to advocate understanding of the Silk Road cultures and to appeal for importance to be assigned to their protection.
* Displays may change as the exhibition theme changes.All exhibits are from our collections.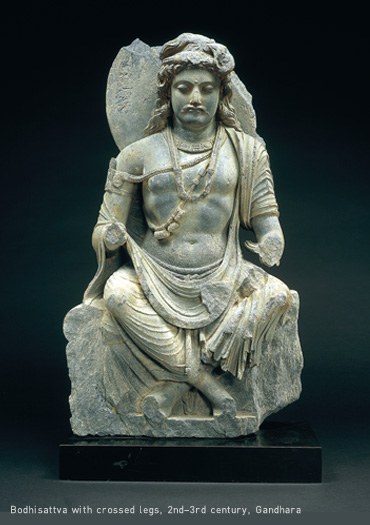 Hirayama Ikuo was one of the representative artists in the genre of Nihon-ga, traditional Japanese painting, in post-war Japan, born in Setoda-cho on Ikuchi-jima (island) in the Inland Sea (Setonaikai), Hiroshima Prefecture on June 15, 1930.
He loved painting from his early childhood. He spent an active childhood on the peaceful island, immersed in its natural splendor, the deep blue colors of the sea in his home country left a profound impression and it became his lifelong image color.
When he was 15 years old, however, World War II reached its peak, and he was called up in 1945 to work at a munitions depot in Hiroshima, where he narrowly escaped death when the atomic bomb was dropped. He suffered the after effects of the radiation sickness and this experience inspired him to become an artist focused on Buddhism and world peace, and the activist of protection of cultural property in the world.zz
After the war, on the recommendation of his great uncle, Shimizu Nanzan, Hirayama Ikuo chose to be enrolled at the then Tokyo Fine Arts School to begin his studies to become a Japanese style painter. After graduating from the Tokyo National University of Fine Arts and Music in 1952, Hirayama became an assistant under Maeda Seison. One of his fellow colleagues was Michiko, who would later become Mrs. Hirayama. Later he made his debut in the art circle with his 1959 work, "Bukkyo Denrai (The Transmission of Buddhism)".
Following his debut, Hirayama made many trips with Mrs. Hirayama in search of the sources of Japanese culture and to follow in the footsteps of Genjō Sanzō (Xuanzang Sanzang). They traveled through various locations along the Silk Road such as Western China, Central Asia, Western Asia, India, Iran and Turkey, and drew sketches. Back home, Hirayama painted and presented to the public many Silk Road theme pictures one after another, which made him an overnight sensation in the art circle. Numerous exhibitions were also held both in Japan and overseas.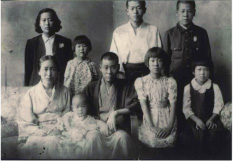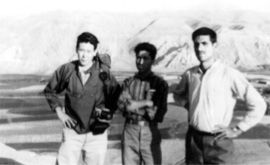 The Daito Saiiki Murals in the Genjō Sanzō-in Hall (Xuanzhuang Sanzang Hall) of the Yakushi-ji temple (2000), presented to the temple as a gift on December 31, 2000, and the Great Silk Road Series (2004–2008) at this museum depicting a caravan traveling Silk Road are the works that comprehensively represent Hirayama Ikuo's Silk Road journeys. Meanwhile, Hirayama's eyes were also directed to Japanese natural beauty, leaving many major works on scenes of Japan from such places as the Yakushi-ji temple, Oirase Valley and Kyoto.
Hirayama's work was not limited to artistic painting. He committed himself through privately funded efforts to protect at-risk cultural heritage pieces at Dunhuang (China), Koguryo (North Korea), Angkor Wat (Cambodia), Bamiyan (Afghanistan) and other places all over the world.
His work in protection of cultural heritage was recognized and extremely highly regarded. He received the Legion d'Honneur (France, 1996), the Order of Cultural Merit (Japan, 1998), Ramon Magsaysay Award (Philippines, 2001) among others. Until his death in 2009 at the age of 79, Hirayama held many offices such as the President of the Tokyo University of the Arts (formerly Tokyo National University of Fine Arts and Music), the Director-General of Nihon Bijutsuin (Japan Art Institute), President of Japan-China Friendship Association and a UNESCO Goodwill Ambassador.
Hirayama Ikuo's exceptional art of painting and his actions to protect and restore cultural assets provided the channel of his appeal for world peace, leaving deep and lasting impressions on post-war Japanese culture as well as international society.
This museum was built in 2004 with funds donated by Hirayama Ikuo, in memory of Hirayama Ikuo whose art and cultural works became the vehicle to deliver his prayer for world peace.
Preparation of foreign language versions (English and Chinese) of this pamphlet was supported by the grant from the Agency for Cultural Affairs, Government of Japan in the fiscal 2014.
Ikuo Hirayama Fascination for the Silk Road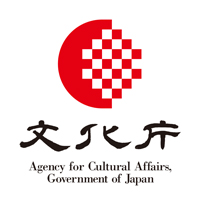 Supported by the Agency for Cultural Affairs Government of Japan in the fiscal 2019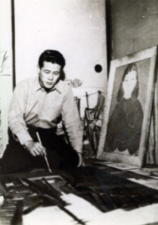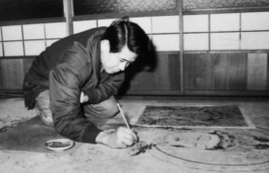 While the oil color painting introduced to Japan from the West in the Meiji Period is called "Yō-ga"(Western painting), pictures drawn in the traditional Japanese painting style are known as "Nihon-ga (Japanese painting)"
"Nihon-ga" are drawn on silk or washi (Japanese paper) using iwa-enogu made from finely ground minerals and nikawa (Japanese glue). Pigments made from natural minerals and other natural materials are expensive. For instance, azurite is used to produce ultramarine, while malachite is used for blue-green, and gofun (crushed seashell) is used for white pigments. Those pigments give a darker color when coarsely crushed; while finely crushed pigments give a lighter color.
"Honga" refers to the work colored with iwa-enogu. Hirayama Ikuo's honga paintings are characterized by their depth created by using many layers of pigments. On the other hand, "sobyo" refers to the work first drawn on washi with sumi (Japanese black ink) then water-colored. Both are traditional techniques of Japanese painting, though unlike honga, sobyo is quickly drawn on paper that is not pretreated with "dosa-biki (a mixture of nikawa and alum to stop the ink from bleeding)", then colored to take advantage of the bleeding, allowing the viewer to appreciate the painter's brushwork.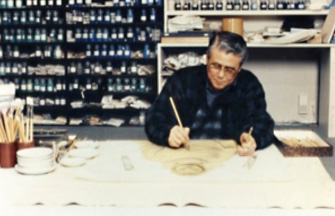 Open hours
10:00 A.M.– 5:00 P.M. (Last entry by 4:30 P.M.)
Closed

Tuesday (open if Tuesday falls on a national holiday), end of year period and for preparation of a new exhibition.

* May open for the duration of some themed exhibitions without closing Please ask for the detailed schedule.

Entrance fees

| | |
| --- | --- |
| Adults | ¥1,200 |
| University or high school students | ¥800 |
| Middle or primary school children | free of charge |

¥100 discount for visitors aged 70 or older and visitors in a group of 20 or more Free for adults with a disability passbook and ¥ 600 for one care-giving companion.Free for adults with an Atomic-bomb victim passbook.

2000-6 Koarama, Nagasaka-cho, Hokuto-shi, Yamanashi, 408-0031 Japan


Using JR lines
A special express on the JR Chuo Main Line from Shinjuku Station to Kobuchizawa Station (approx. 2 hours);
A special express on the JR Chuo Main Line from Nagoya Station to Kobuchizawa Station (via Shiojiri Station; approx. 3 hours);
Transfer at Kobuchizawa Station to the Koumi Line; get off the train at Kai-Koizumi Station (approx. 7 minutes). The museum is just by the station.
Alternatively it is approx. 10 minutes' drive from Kobuchizawa Station. (Note: a loop bus operates from Kobuchizawa Station in the summer season. Please refer to the museum website for details).
Using private car
Approx. 10 minutes' drive from Kobuchizawa I.C. off the Chuo highway. Follow the Yatsugatake Kogen Line road and turn right at Koarama intersection, pass the rail crossing and immediately turn left. The museum is 300 m ahead.